Flo Jo - The Appaloosa Eagle - 2016
By Tracy A. Bye
January 2017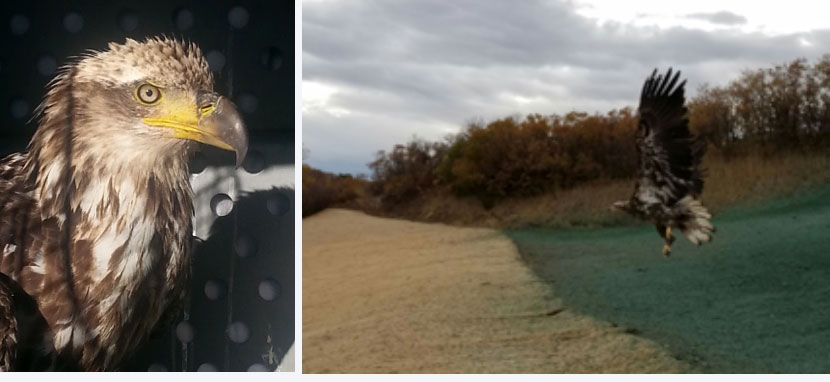 The day an injured eagle comes in for rehab, I am always more aware of what I need to learn that day or what I am feeling or more watchful for signs from loved ones who have passed or the angels that guide me. I believe, as the Native Americans do, that eagles are great messengers from the heavens. The day Flo Jo came to me was July 3 and she was a 4 year old bald eagle. I immediately thought about the significance of this bird coming to me the day before our Independence Day and being a bald eagle - she represents our freedom. I felt a huge sense of responsibility to help this beautiful bird heal and be free again.
She was a very big eagle and did not have the usual markings of a bald eagle with a white head and a white tail because she was just four years old. At this stage of life, bald eagles are often misidentified as Golden Eagles because they appear to be mostly brown. After x-rays with Dr. Meyring, it was determined she had a fractured scapula and the good news was she did not have lead poisoning. Many of the raptors that come in, especially eagles, have lead poisoning. The symptoms of lead poisoning appear as if they have a bad head injury - neurological symptoms. In Northwest Colorado and Wyoming, all of the eagles I have had in over the past four years have had some level of lead poisoning. They are unable to digest lead and when their food sources have it, it becomes a serious issue to an eagle?s health. Luckily, Flo Jo tested well and did not have high levels of lead in her system.
In September, Flo Jo was healed and ready for release. She was being released in honor of Maureen Florence, who had passed away this year and others who had passed on too. Her feisty attitude and assertiveness in wanting to be free again, made her hard to catch for release, but certain she was ready. Her unique appearance was so beautiful that she was nick named "the Appaloosa Eagle". In her release on the Elk River, many significant emotions were felt by all who witnessed this event. For some, she was taking messages to the heavens for the loved ones lost, for certain parents - she was a sign of hope for better health after a kidney transplant, and in this release, Flo Jo shed her light on all of us to remember the power of love and compassion. She chose to thank us by soaring around and above us for several hours. Little did she know that the power of her presence touched many hearts that day and gave us hope for all the world.

An update: 1.12.17 - Here is a picture of Flojo with her new mate. : )
---
The Greatest Gifts Come in Small Packages
By Tracy A. Bye
January 2015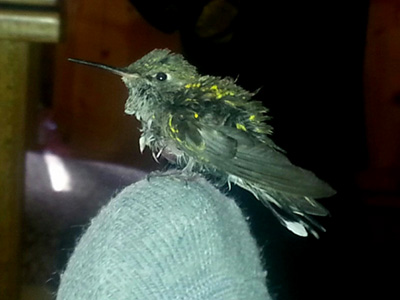 This past summer the old adage that says "the greatest gifts come in small packages", really came true for my sons and me. During a very busy month of July with 40 total animals coming in for rehab in just that month and a major surgery I had to have, I was wondering how I was going to keep up with the pace of my busy season. When the day after I had surgery, I was given the greatest gift in a tiny, dehydrated baby hummingbird.
This baby hummer was one of four I had brought in to me. As you can imagine, feeding a baby hummingbird can be quite challenging. It can?t be all sugar water because they need their minerals and protein as well. It also has to do with timing. I feel since I was home recovering from surgery, I was better able to provide the right feeding schedule and the nutrition these little ones needed. The one hummer that survived this whole ordeal was a broad winged hummer who I named Bee.
Bee was not part of the other nest of baby hummingbirds, she came to me after her nest was blown off a satellite dish and a lady found her brother dried up against her house. She then noticed the nest and found Bee close to death, but still alive. This woman brought Bee to me and I was able to start rehydrating her. I was worried because I had not had success with baby hummers before. To my relief, Bee-bird started getting some energy and feeling better. The first day was difficult to get her to eat, but once she did ? she did not stop. The next morning when I woke up I could hear her little chirp ? meaning she was HUNGRY! Each day her strength grew and so did mine. Her perseverance in wanting to survive was an inspiration to me. Watching her give her best each day to gain strength, gave me the courage to heal as well.
Hummingbirds are a beautiful animal totem. They represent tireless joy and the nectar of life. The humming of their wings creates an internal massage, restoring health and balance. The first time Bee-bird "buzzed" her wings, she was around 16 days old. She frightened herself and almost fell off her nest. When she "buzzed" them again, you could see a sense of peace come to her as she settled in to her routine of chirping for food and then buzzing her wings to gain strength and health. Her sounds became a comforting factor in our household. My sons and I looked forward to waking up and hearing her, or coming home and hearing her ? it was similar to the welcoming of a beloved pet. We all double checked with each other ? "Have you fed Bee?" Her constant companionship and darling demeanor kept all of our lives full of joy. Compared to other birds, hummingbirds have the largest heart in proportion to their body. The resting heart rate is a zippy 500 beats per minute. No wonder Bee was so full of love, she had a huge heart and was sharing it with all of us who got to experience her. We weren?t rehabilitating her, she was rehabilitating us - changing our lives forever.
All hummingbirds remind us to find joy in what we do. They are a symbol for that which seems impossible. Bee was definitely this symbol in my life and the people who met her felt this as well. Her presence in our lives was such a great gift! Watching her grow was amazing and when she started to hover and fly ? it was something we?d spend hours watching. Although she felt comfortable perching on us and she allowed us her friendship, she always remained wild and I knew if I opened my door she?d want to fly free with the other hummingbirds coming to my feeders. We wanted that for her as well, but she had to be ready.
Legends say that hummingbirds float free of time, carrying our hopes for love, joy and celebration. Bee continued to add joy to our lives each day. Over her time in rehab, she actually rehabbed me. Having her in my life each day helped me to heal, find true love, and reminded me to celebrate all the precious time I had with her and all the moments in my life. Her presence in the lives of the people she met always made a difference. The gift of her grace and energy touched lives in different ways, but always touched lives. To many lives she gave hope and in many she gave joy. Her lesson that every connection in life has meaning and that facing each day with joy will make your life beautiful was the greatest gift to all of us!
Her release was a unique and special one. She was ready to be free, was an expert at flying and hovering and was eating nectar from all sorts of flowers that were given to her by loving admirers. We released her on a gorgeous fall day with some other hummers around. She immediately flew to a feeder, met a friend, and darted away to spread her light to others along her migration journey. She truly was the greatest gift and the Universe sent her to my family and I at just the perfect time. She opened her heart to us and in turn opened our hearts to life! We are so unbelievable grateful for our time with Bee. . . . the greatest gift in a tiny package.
The Girls
By Tracy A. Bye
May 2014
I am a mother of two boys. All of our pets are boys except one of our kitties. So being female in the Bye family is a rarity. The ratio of boys to girls changed in early summer at the Bye household.
During early June 2003 I got two calls within a day of each other. One was for a deer fawn and one was for an antelope fawn. Both came to Born Free because of human intervention. Both were less than a day old and as cute as can be.
Angelina, the deer fawn, was picked up by a woman on horseback who found her along a path. When she called me from her cell phone and told me there were no signs of injury, I told her to take her back to where she found her because her mother was nearby. Many people don't realize that deer moms will leave their babies for up to 3 hours at a time. They are communicating with them during this time, but to a human's eyes the mom may appear to be nowhere in sight.
Later that night, the woman called me back to inform me she had not taken my advice. She had brought little Angelina back to her house, to her son's baseball game and had her in her living room with her kids and dog. "She seems to be fine except I think she's hungry," is what this woman told me. Little did she know that anytime a wild animal "seems fine" inside a house with people and pets around - that means they are in severe shock!
In the first few days Angelina had to fight hard to survive after all that she was put through. I always think of the moms of these fawns, who are desperately searching for their babies but come to find they have been taken away from them by unknowing humans. How their hearts must break.
Then came Cantelope a precious little antelope fawn who was found by some ranch kids. She was a twin that was left when the ranch kids came upon her mom and her sibling. The rancher and his kids did the exact right thing and tried to reunite Cantelope with her mom and twin, but it didn't happen successfully.
Cantelope was a light in Angelina's world those first days and continues to be to this day. They are inseparable. They are both growing well and are very healthy. I call them "my girlies!"
One morning in mid November I went out to feed, when to my surprise there was another deer fawn hanging out by "the girlies" pen. The fawn was almost as big as Angelina and was definitely wild. This perplexed me as all the deer had migrated already. Girly ,as I fondly call her ,has stayed with us ever since. My thinking is that her mom was killed during hunting season and she was smart enough to find Angelina and Cantelope. They must have told her that this was an okay place to be. Maybe they told her I needed some extra girls around. Needless to say, 'Girl Power' at the Bye household has taken on a new force!
Each day I look at their big, kind eyes and darling faces and realize how very lucky I am to be in their presence. Their tenderness towards me and their unconditional compassion make lots of my hardest days better. Animals are always part of those moments when I feel my greatest joy.
In April or May the girlies will be released into the wild together. To live free, as they were born that way.
Shelby
By Tracy A. Bye
2002
My usual stories are of wild animals who have been to be rehabbed and have made a difference in my life. This story will be different. It is the story of my most faithful friend who helped so many of those wild animals have the will to live and to feel they were loved.
Burning Brightly in Heaven
by Tracy A. Bye
2002
My best friend died this past summer, her name was Shelby. She was my Golden Retriever, my truest friend, my wisdom keeper, my gentle companion and an animal who gave many gifts to this world. Her life touched the lives of children, of adults and of all animals.
Shelby was a dog who could be trusted in all situations. Her contented, gentle demeanor was a joy to be around at all times. She loved life and all that it brought to her. When I got my first deer fawn in, I was very nervous to do everything correctly. Shelby would be by my side with each feeding and cleaning, day and night. I would be inside and Shelby would wait by the door to go out. Soon I would go and look for her and she would be in with the fawn sound asleep, with the fawn curled up by her side. Shelby became the surrogate mother to many ungulates in my care. They treasured her companionship, loved her kisses and waited for her to come home to them. I believe having her help me with their rehab enriched their lives and gave them hope to live. She licked them as their mom would have, she gave them warmth and she could talk to them in animal terms.
When fawns or calves would die in our care, Shelby would mourn their passing along with the rest of us. She was by my side as I cried at their death and the unfairness of life. It was Shelby who could give me hope again - as she did to many critters too.
Shelby loved the raccoons, fox kits and baby beaver. She was a light in their lives. Her compassion towards their needs and their loneliness was a treat to watch. In her grace, I learned many things. She taught me patience, persistence, faithfulness and joy. Her wisdom on how to care about life , how to give in all circumstances and how to live your best life was a treasured gift to the lives of my whole family. I keep working on living my life by the lessons she taught me.
The last night of Shelby's life on earth was spent in her usual way - making our lives happier. I received a call about a fawn who had been hit by a car on Highway 131. The person who called was in great distress and was very worried about the fawn. I told him where I lived and he was on his way with the fawn. With hope in my heart I went to sit down by Shelby and wait for the fawn to arrive.
My girlfriend's were over and we were eating pizza with Shelby. As we sat and talked to her and gave her lots of love, I could see in her eyes she was not feeling well at all. Her cancer was back and stoically she was fighting to live the way she always had, with grace, kindness and joy. As I told them all about the phone call, Shelby picked her head up and listened with concern. She wanted to come out with us when the car arrived, but was not able to walk. I know she wanted to be by my side as she always was. She wanted to help the fawn or me or the person in distress in whatever way she could - that was her way.
I gently told her I would be back soon and that she should stay comfortable on her bed. I gave her a kiss and headed to meet the car in my driveway with the injured fawn.
As I opened the door to a man in tears, I knew it was not good news. The fawn had died in route to my house. In the hour I spent out with the fawn and this man, Shelby passed on. My best friend was not there as I cried at the unfairness of life. My hope had to come from within, from the support of my family and friends and from the life lessons I learned from Shelby.
I have so many stories I could tell of the many animals she took care of in her lifetime. I know them in my heart and feel so grateful to have been given the gift of Shelby in my life. Her light burned brightly on earth and I feel it burning in heaven too.
Flag
By Tracy A. Bye
I got the call in early June from a friend of mine. "Dogs are attacking a deer fawn in my garden!" The story quickly unfolded after this fawn was treated for severe bites in the neck and abdomen by local vets. The fawn was found by a hiker who thought she was abandoned by her mother. The hiker took the fawn to town and put her out in her yard, where she was attacked by dogs.
After experiencing this horrible trauma, this little one came to recover at Born Free Wildlife Rehab. She was a little darlin' with so much will to survive. I named her Flag, after the deer in the movie, The Yearling. She became my shadow following me everywhere on my rounds to feed the critters. She overcame infection, shock and some digestive problems. To this day when I recall her will to survive it gives me goose bumps. She trusted in me when she should have hated me. She loved me when she should have been loving her own mom. Flag became a part of my soul. If ever there are soul mates, I often feel she is mine.
Flag stayed at Born free for a year. With in that year she brought my family great joy. I "soft released" her out into the wilderness behind my house. She could come back for a visit while starting a life on her own. She met many deer friends that summer. As summer progressed into fall, Flag would be away for weeks at a time. Towards the end of September Flag came home with friends! Two big bucks and two other does. They slept behind the garage and lazily wandered around our yard. I think they felt safe there since it was hunting season.
I worried her friends would stay with her for the winter, which would be very costly in feed and was not the best scenario for the deer. But soon, Flag's friends migrated with the rest of the herd. Flag decided to stay another winter with us. She became a surrogate mom to two fawns that I had been rehabilitating. There names were Johnny and Olivia. Flag, as always, did her best at this task and became a loving mom to both the fawns.
The next spring when it was time to release all three deer I considered where I should release them. It had not been successful releasing Flag behind my house, because she chose to stay home. I called my friends at the Division of Wildlife and they told me about a wildlife refuge outside of Meeker. There were no homes or people and lots of deer. This was the place for Flag, Johnny and Olivia.
I trailered them to the refuge with great heaviness in my heart. At times I couldn't see the road because of my tears. I kept telling myself, this is what's right for them. They need to live free...be free...because they were born free. I talked to Flag, Johnny and Olivia constantly, reassuring them of their trip and their lives that were ahead of them.
The refuge was beautiful and there were many deer all around. I let them out of the trailer and watched them as they tested the area. They came back and sniffed me and rubbed their heads on me. I told them I loved them and got back in the truck. The ache in my chest was very real. I felt as if I were leaving my children behind.
The drive home was a good time for memories and thoughtful wonderings. I prayed they would be smart and would be safe. All I could do now was have faith that their instincts would guide them in the struggles of life. When I got home it seemed so lonely. I missed their talking to me and the unconditional love they showed me daily.
I did not see them for four years. Then one September night I went out to cover the pumpkin patch. I turned on the floodlight and saw many deer in the pasture. All the deer started moving up the hill except one. She stood and stared at me with quiet ease. As I looked at her closely I recognized her unusually large ears and her heart shaped nose. "Flagaroo, is that you???" I called to her. She came closer and looked at me. I began to cry and had to hold myself back from running up to her and hugging her. She allowed my cat to rub her legs and she touched noses with my dog. Be still my heart .... I could not believe I was seeing her again and knowing that she was okay. her mate called to her from the hillside and off she went. She came back many times that fall.
The next time I saw her again and with her was a beautiful buck. Both would come with the herd of deer but were more comfortable hanging in our yard and eating my plants. They were comfortable with my pets that they had grown to love when they were being rehabilitated. Flag and Johnny had come home, yet they were wild. It was a precious gift to my heart and soul.
In the spring and summer of 2001 they were back again. Johnny is a six point buck and Flag has had a fawn the last two years. Flag was nine this year. Each spring when she returns - my goose bumps do too. I am forever grateful for her presence in my life and in my soul.
The Story of Sailor
By Tracy A. Bye
Sailor came to me in late June after being found on the side of the road near Mabel. Sailor is a glorious Golden Eagle. The couple who came across Sailor on the road were traveling home from a Native American conference. When they came upon this eagle and were able to walk up to him, they felt they were very blessed and it was a sacred moment. For they had just learned from the Native Americans about the importance and beliefs they have about eagles.
Every time I get an eagle in to be rehabilitated I feel this blessing also. They are so majestic and very stoic creatures. Golden eagles have the ability to break my wrist with their talons if they so desired. That is how much strength they have in each of their feet. However, the eagles I have had the pleasure of rehabbing have all been so gentle and kind with me. Sailor is one of these eagles.
Sailor and I bonded immediately. I could see he was very dehydrated and very skinny. As soon as he rested and got relaxed at Born Free, I made sure plenty of food was available to him. Within an hour he had eaten twelve mice. He soon realized I was there to help him and I was his source for food. Sailor began to let me stroke his head and chest with no threatening behavior. He loved to have his head stroked, it seemed to calm him.
Sailor is a young eagle, but of great size - both in heart and physical stature. I came to the conclusion that Sailor's only problem was that he had not learned how to hunt properly. My thought was that his mom was killed somehow and had not fully trained Sailor how to survive. Over a course of a couple of weeks Sailor became weak and hungry and that is how this couple came to find him on the road.
Sailor's strength grew incredibly in just a few days by eating well and feeling safe. My heart is happy because Sailor is now in the flight training cage on the front range with 12 other Golden eagles. I get daily reports of his progress and how he is an amazing flyer and he is learning to hunt like a pro.
Soon I will be able to bring Sailor home and release him back where he was raised by his wild mom. He will continue to bring blessings to our lives and beauty to our skies. I hope that in the short time I have with Sailor I can convey to him how thankful we are to have his kind in our world.
Sailor's Ending
By Tracy A. Bye
In a past NWCAAL newsletter I told you the story of Sailor. He is a beautiful Golden eagle that was brought to Born Free Wildlife Rehab in June of 1998. Molly and Steve Unfug were driving back from an Indian Pow Wow and saw Sailor on the side of the road. They believed they were given a great gift in being able to see Sailor and then an even greater gift in being able to assist him.
Sailor was not injured, only very dehydrated and hungry. It is my belief that Sailor's mom was killed and he had not been taught how to hunt properly. After coming to Born Free he was fed and given tender loving care. Soon thereafter he was ready to learn how to hunt. I took him to the flight cages I use on the front range at The Birds of Prey Rehabilitation facility. Sailor spent the winter in the flight cages learning how to hunt and take care of himself from the mature eagles that were rehabbing there.
Sailor's grand finale took place in June when he came back to Steamboat and I released him. However, the story behind this story is what makes it a grand finale.
Molly and Steve have studied Indian beliefs for many years. They believe that Golden eagles are great messengers for they have learned this fact from their Indian friends. Sailor was their messenger of good news - they found out Molly was pregnant.
Molly had a hard pregnancy. Their son, Keenan, was born in December even though his due date was in March. They went through many hardships before Keenan was born, but after he was born was even more difficult. Keenan never was able to leave the ICU and he ate through tubes. Molly and Steve spent every day in the hospital. Keenan died when he was one hundred days old.
Molly and Steve had a strong belief that Keenan's spirit was connected to Sailor's. They kept in touch and when Sailor was able to be released, they wanted to be there.
They flew to Denver from Georgia and drove to Steamboat. We released Sailor on a beautiful summer afternoon with blue skies and puffy white clouds. As Sailor gracefully soared back to freedom he cawed his appreciation to us. As we were watching him dive and soar and dart through the skies of the Yampa Valley, we began to notice other eagles coming and flying with him. In the end a total of five Golden eagles came to fly with Sailor. It was an unbelievable moment that was filled with awe and with sweet sorrow.
As Molly, Steve, and I cried with the beauty of this moment and the knowing of Keenan's spirit soaring with his messenger into the heavens, I understood what an incredible gift animals are to our world and to our souls.
Sailor's grand finale helped a young couple deal with the death of their child and made me aware of what we take for granted each day. We can all learn from the messages the wild animals are trying to deliver, if we leave ourselves open to them.
Love at First Sight
By Tracy A. Bye
I am a school teacher and the first day of school is always exciting. I may feel a little nervous and stressed from the pressure of getting my room ready , planning lessons and having everything "just right" for my students before they walk in to our room on that first day, yet I am always excited to meet my new class. It is quite a transition from being outside, around animals all summer, to being emersed into a first grade classroom. Little did I know that this year, the first day of school would have a whole new level of excitement!
The bobcat kitten was brought to me from a woman who had found him outside of Hayden. He was brought to me during lunch on the first day of school. The moment I looked into his eyes, I knew it was love at first sight!
I had never seen a bobcat before. In pictures and on calendars, yes, but never in real life. This kitten was the cutest thing I had ever seen. His name became Jeremiah.
Jeremiah was little - probably the runt of the litter. It is thought that his mom abandoned him because it was a late litter and he was the runt. Another thought was that his mom had been poached and he was left without a mom. I will never know why he was without a mom, yet I feel so thankful that I got the gift of becoming that to him.
Throughout the afternoon I worked to get Jeremiah to drink and then that evening I worked to get him to eat. What an exciting day at school! When he was eating and drinking regularly I began to feed him using an adult bobcat puppet. He was truly a joy to my whole family. We loved watching him play and growl, purr and sleep. Each day he worked hard to survive and was so stoic in coming to new surroundings and not having any bobcats around.
Bobcats are easily imprinted. So all of us had to watch that he stayed wild and that we didn't ruin his chances of living his life in freedom by loving him too much. As he grew and grew I began looking for another wildlife rehabilitation center that had some other bobcats wintering over. There is a wonderful wildlife rehabilitator in Del Norte ,named Susan Dietrich, who was willing to take Jeremiah. She had two female bobcat kittens around his same age.
He was transferred to Susan in late December and as Susan writes to me, "is doing bobcat things." He has become a great hunter and is dominant with the females. He had the courage to survive and the strength of spirit to become a great hunter. In April we will travel to Del Norte to release him to live a life that he deserves - one of freedom and of greatness. I love Jeremiah. He has taught me to love all bobcats. I learned so much about them while he was in my care. He showed me how the spirit of one little bobcat can add so much to the first day of school . . the lives of my family and to our world.
I treasure the days I have gotten to spend with Jeremiah. It truly was love at first sight . . . second sight. . .
third sight . . . and forever more.
Bull's Eye
By Tracy A. Bye
Over the years I have written many stories from my heart about the animals who have touched my life and taught me so much. This year it is a story of great courage, devotion and love from a little beaver kit who helped us all get through a tough summer of change.
Bull's Eye came to us in early June on the eve of my oldest son's, 8th grade graduation. There was a big run-off and the Yampa River was running high. My assumption was his dam was flooded and all his siblings washed away. But, due to this little one's great courage he made it to the side and was able to get out of the river. He was wandering along the 5th street bridge when my younger son, Garrett, found him. He was cold, in shock and very hungry!
My mom and sister were in town for Dan's graduation. We all ran to the store to get the proper formula for him. I carried him next to my body under my coat to try to give him warmth. He soon was asleep with his body temperature rising. A baby beaver has got to be the cutest baby ever. We were all enthralled.
Little did we know that Bull's Eye would have such an impact on all of our lives. He did not like the bottle and it was hard to get him to eat. Garrett and I spent many hours trying to get him to eat more. Finally after much care, Garrett was able to feed him. The devotion between the two of them was obvious. They truly loved each other. This kind of devotion is rare and I have really only witnessed it in animals. The livelihood of both beaver and boy were of utmost importance to each of them.
What Bull's Eye didn't know was that Garrett needed him more than ever because Garrett was facing a big life change in that his parents' were divorcing. Each day as I observed them I saw them both face the day with courage. The devotion and love between them helped them each want to be the best they could be for that day. Bull's Eye taught Garrett to not wonder what sadness was awaiting or what disappointment may be in his future but to see each day as an opportunity to be outside together watching the clouds, playing in the water, lying in the grass for hours and enjoying each other's company. The perfect day to a beaver . . . and now to a boy.
As Bull's Eye grew and was able to spend all his time outside, he would wait at the door of his pen for Garrett to show in the morning. He would squeak and "coo" to his delight when he saw the face of his best friend. Garrett would turn down play dates so that he could spend his day with his wise little friend.
The Indians believed that having a beaver as part of your family was a great blessing. They would take a beaver kit and raise it as a child. The squaw would breast feed the kit. Beavers are very social animals and live in a family unit their entire lives. As the beaver grew up in the Indian family – the belief of the family was that they were protected and were given many beautiful blessings.
As the summer turned to fall, Garrett, Dan and I all realized what an impact this little beaver had made on our lives. Although Garrett had spent most of the time with Bull's Eye, his lessons were taught to Dan and I as well. Change may seem like a negative situation when really it can broaden your view and make life clearer and filled with blessings. The courage with which Bull's Eye faced his change of being washed from his home and family to being a member of our family was amazing. His grace in facing each day and making it his best and bringing forth his wisdom to teach us was a gift. The love of a beaver and a boy was a blessing that gave us all hope to live by.
At Bull's Eye's release we all felt his gratefulness and his knowing that his life had truly been a blessing to ours. We thank him from the bottom of our hearts.
George and Karl
By Tracy A. Bye
When two baby marmots came into our lives, we did not know what a difference they would make in our every day living. The two marmots came from opposite ends of the county, but were nearly the same age. Their eyes were still closed and they were found by themselves without any family or mother near by. After reading an article about George Karl, the coach of the Nuggets, my son asked if we could name the marmots George and Karl – that was the start of our "name theme" of Nuggets names.
The gumption they each showed with in the first days of coming to Born Free made it clear to me that these little guys had the will to live and that is what they did – with gusto! They began eating well with the bottle and after a couple months they began eating solid foods that marmots love. Every day their bright attitudes and fun-loving personalities would make us all laugh. They always awoke with an inquisitive mind and ready to face what ever they needed to with charm and joy.
There are many people who seem to not care for marmots, but I guarantee that if they were allowed the time we were to raise and observe how these marmots live life, their opinions would be changed. I love all animals and still these two made me love marmots all the more. Their personalities came out and when I moved them to their outdoor pen, they really began to show what intelligent little beings they are. They did not show fright, but showed more of an interest in every thing they saw. They were housed by a mink and a rabbit. They thought watching these two was the best thing in their world! When they became alarmed they would whistle their warning and alert the mink and rabbit to any movement or shadow coming their way.
There are so many stories of the funny things they did over the summer, but the joy and happiness they shared with us is something we will never forget. They were released in the fall and they were the first marmots to ever get a horse back ride to their release location. But just as in everything they faced, George and Karl thought it was the greatest adventure yet in their young lives. When released, they whistled their warnings and then began eating. As I rode away from them and looked back, both of them were standing up looking my direction with a gaze of great gratitude . . . I looked back at them in just the same way.
Babaji
By Tracy A. Bye
2011

It happened on one of those beautiful summer days . . . perfect temperature, puffy white clouds, bright sunshine and gorgeous blue sky. This day seemed to be full of animals in need of some tender care. On days like this one, where there are many calls for help, I often wonder what lesson it is that I am suppose to learn. Some of those days I get frustrated with the amount of work and responsibility, sometimes I get angry at the thought of a fawn or calf being taken from it's mother, and some days I am more balanced and just rest in the peace of the wild things surrounding me. It is these times of peace I strive for and know that is what's best for the animals as they enter the world of human hands trying to heal their injuries.

This call was probably the seventh call of the day and its message was that a baby bird of some kind was found in the middle of Hwy 131. As I drove to pick up this little one, I always wonder what I will find. As I peeked in the box at this particular bird, I smiled as I observed a ball of white fluff with very bright eyes looking out. I saw that it was an American kestrel, one of my favorite types of falcons! The spot where it was picked up, in the middle of the highway, was very unusual. How did it get there? I felt blessed to have another kestrel in for rehab. They are such delightful little falcons with a beauty that is hard to fathom.

From this day forward, this kestrel gave life his all. He was a great eater and was willing to trust me. Signs of great wisdom arose almost immediately with this little guy. He was inquisitive with grasshoppers, as well as mice. He would observe them and seemed to respect them before he chomped them down to build his strength.

His name soon became Babaji. This name is an endearing nickname given to a great teacher in life . . . . a guru. Babaji grew in his role as Babaji to many raptors and songbirds that filled our facility this summer. His endearing "chatter" as other kestrels came in for rehab helped them to feel comfortable and not afraid. He persevered with his heart and won us all over with his character. His daily business was enjoying life and doing his best to guide other raptors in our sanctuary to health. As his feathers started growing in, I was amazed by the brilliance of the colors – gorgeous silver-blue with beautiful rusty-reds.

Each day I looked forward to checking in on him as he grew bigger and bigger. Babaji was a special gift to our summer. His character was one of a saint, his wisdom showed us all how each day should be lived, and his love and excitement for everything shed a great light on all of our lives. As he grew ready to be released, my heart felt joy for him to be able to fly free, but also great sadness in not being able to see him each day and learn from him. I chose to release him on the birthday of two of my dearest friends. It was a lovely late summer evening and he was ready to fly free. There had been several kestrels flying over his cage for weeks, checking in on him it seemed. As with everything in his life, Babaji flew at his release with such grace it made us all cry with such joy and happiness for being given the gift of this wise falcon. He landed on another cage nearby and let us all take pictures. He stayed in the area for several days and some days as I was out feeding, I would see him "fly-in" as if to say thank you and to let me know all is well with the world. I do believe he was a great sage that "dropped" into our lives to spread light wherever he flies. I look forward to seeing him back in Steamboat next spring.